Cindi's celebrates 27 years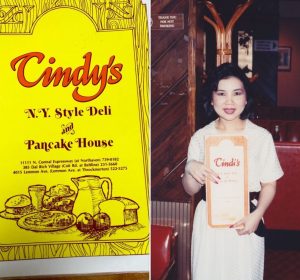 27 years ago, Cindy's NY Style Deli & Pancake House closed its doors. Many people wanted to take over the restaurant's location, but its landlord, Frederick Brodsky, signed a lease with Anh Vo after visiting her small restaurant on Harry Hines. As they say, the rest is history!
How does a Vietnamese woman end up owning a N.Y. Deli, Restaurant & Bakery? Anh is asked this question all the time, her answer is simply "Only in America!" Through a lot of hard work, determination, and support from the community, Cindi's has expanded to 5 locations across DFW.
We couldn't have done it without our loyal patrons, our dedicated staff, and Mr. Frederick Brodsky. We are endlessly grateful that Mr. Brodsky took a chance on a young entrepreneur who immigrated from Vietnam in pursuit of the American Dream. We are so lucky to have such a wonderful and devoted staff, many of which have been with us throughout our long journey. And of course, we cannot thank our loyal patrons enough for their patience and support throughout the years! We truly appreciate each and every one of you.
Throughout our 27 years, we've had many regular patrons who have passed that we miss dearly. We are heartbroken they are not here to celebrate this milestone with us, but we are forever thankful for their devotion and support. We are so happy they made Cindi's a tradition for their children and grandchildren, we love seeing them every week!
Thank you all so much for helping us make this dream come true! We are thrilled to be celebrating our 27th anniversary with our amazing customers and staff today!
As a special treat, the first 27 customers to show this post to their server at each of our 5 locations will receive a classic Cindi's mug!