Cindi's awarded Best Breakfast/Brunch by Advocate Magazine
As part of Advocate's yearlong best-of reader's choice contest, we asked you to choose your favorite breakfast joint in the neighborhood, and Cindi's came out on top. That's likely because there's a little something for everyone on the menu: from Southern favorites such as chicken fried steak and eggs, to the bagel with lox, a New York deli staple. Plus, breakfast is served until closing time at 9 p.m., so you can come back later to try those cheese blintzes that you ran out of room for in the morning. Owner Anh Vo oversees that all menu items are executed to perfection in the kitchen. She says, via the restaurant's website, that as a political refugee from Vietnam, she is grateful for her career in America. "I try as much as I can to give back to the community, one which has been so supportive," she says. When most menu items come in under $10, it's not hard to join the numerous loyal patrons that have frequented Cindi's since 1989.
Cindi's is a 2013 Best Of Living Magazine Winner for North Dallas and Park Cities
Cindis Restaurant is a Reader's Choice Winner in the 2013 Best Of Living Magazine for North Dallas and Park Cities.
Cindi's Restaurant Receives 2012 Dallas Award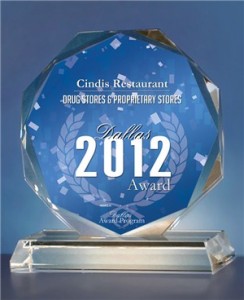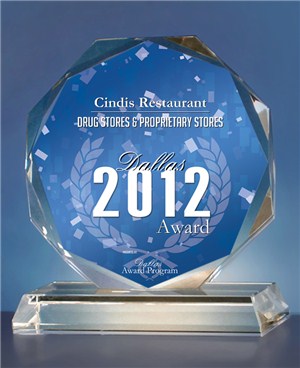 Cindis Restaurant has been selected for the 2012 Dallas Award in the Drug Stores & Proprietary Stores category by the Dallas Award Program.
---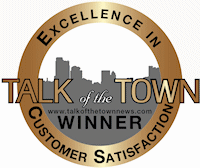 Cindi's NY Delicatessen Restaurant & Bakery Voted Among Best in Region
Cindi's was awarded the 2011 CMUS Talk of the Town Customer Satisfaction Award


Star Rating: 5
A taste of NYC at Cindi's
This New York-style deli has a wide variety of breakfast fare.
---

Best Bear Claw
"It's the last thing you might expect to find at Cindi's New York Style Deli, but there it glistens in the pastry case: the best bear claw in town. The traditional bear claw has almond paste and sometimes raisins, but Cindi's does two über-rich flavors: apple, like the ones you see at doughnut shops; and cheese."
---
Best Chicken & Dumplings
"…And the chicken and dumplings on Mondays? They're the best Jewish, country-and-western, Vietnamese, let's-go-shopping chicken and dumplings in America."
---
Best Breakfast
"…for our money, which is not much these days, we choose Cindi's NY Deli (Central Expressway location), where a bagel and lox are still among the pleasures of the flesh, and eggs any which way you like 'em—fried, scrambled, omelet—are reliably good. Coffee pots remain on the table, hot and ready to pour. Hash browns are just the right shade of brown. Waitresses are sweating from orders short and long, patrons old and young. And the Vietnamese owner has the good sense to employ the former owner of the now defunct Gilbert's Deli to get a bit of Jewish cooking into their menu so that the name delicatessen never becomes a misnomer."
---
Best Breakfast/Lunch
Dallas Morning News – Richardson Neigbhors Readers Choice Awards 2006
"Cindi's is great for breakfast with the best blintzes in town and is also good for later in the day with huge, delicious sandwiches."
---
Best Deli
Dallas Observer – Reader's Pick Best of 2006
---

Best Place to Lunch with Grandma!
"Remember the feeling of going to your grandma's house when she's made so many appetizing dishes that you can't choose one, so you end up eating more than you thought humanly possible, and Nana (or Granny or MawMaw) still lays the guilt trip, "You barely touched your food. Don't you like my cooking?" Avoid this whole debacle by taking your grandmother to gorge at Cindi's, where she can enjoy deli favorites like latkes, stuffed cabbage and matzo ball soup. Cindi's menu also offers page after page of more traditional American breakfast and lunch items (we'll just say the waffle is delightful). If you're feeling a wee bit peckish after all that, top it off with an old-fashioned egg cream or phosphate. We had to loosen our belt just thinking about it."
---
"Best Blintzes in Town"
Digital City Review
"Cindi's is a very busy place, and after one visit you'll understand why. They've been open in the same location for more than ten years, and they have a lot of community spirit. Cindi's includes a full service bakery and their danishes are out of this world. If you are looking for a memorable breakfast, here's where it is."
---
"Great for Breakfasts"
"Ruling the morning hours", this no-frills North Dallas "NY deli" duo is "great for breakfasts"(try the "awesome pecan pancakes"), but it also hits the spot later in the day with "huge sandwiches", "better-than-homemade" latkes and "excellent blintzes."
---
Best Catering
"Coming from a person who has eaten at New York's best deli's, this 'lil ole place right here in Dallas is better than anything in Manhattan."
---
"…if you're on a quest for New York style deli favorites you will succeed here."
"It's deli heaven west of the Hudson. "You are tawkin' to me."
---
Matzah Balls in your Chan' Ga?
Vietnamese refugee now calls Jewish deli her home
by Deborah Silverthorn / Dallas Jewish Week
Published 04/26/2001
---
Dallas Morning News – Front Page 9/11/1994
Diligence pays off for Vietnamese owner of 'NY' deli
By Cheryl Hall / Financial Editor of the Dallas Morning News